Over the weekend, Apple announced their latest replacement program, the Apple USB-C Charge Cable Replacement Program. Affected cables were manufactured through June of 2015. If you purchased one of these cables designed to charge the 12-inch Retina MacBook, or if one came with your MacBook then you can get your cable replaced free of charge if it is one of the affected cables. The issue that these cables have is that they will intermittently not charge your MacBook due to a design issue.
How can I tell if my cable is part of the replacement program?
Affected cables have "Designed by Apple in California. Assembled in China." stamped on them. New, redesigned cables include a serial number after that text. See images below.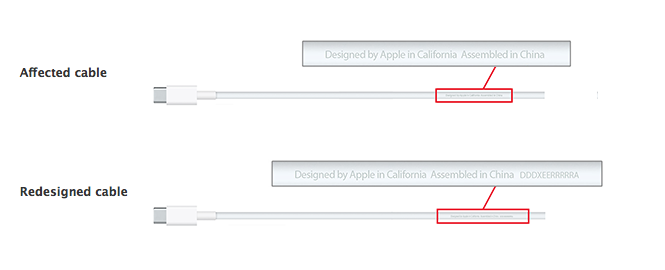 Can Connecting Point replace my cable?
Absolutely. Connecting Point is an Authorized Apple Service Provider and will replace all eligible USB-C cables free of charge.  We will need the serial number of your MacBook to verify eligibility of this program so please bring your serial number with you.
How long will this service take?
Apple will overnight cable replacements to us so we generally state between 1-2 days for getting your replacement cable. We must first create a service ticket using the serial number of your MacBook to verify eligibility.
Apple already sent me a cable…
Apple is trying to reach out to those customers who have a USB-C Charge Cable eligible for replacement and sending a replacement via mail. If you already received your replacement cable then there is nothing else you need to do and no reason to visit us for a replacement.
What if I already replaced my cable and paid for it?
If you purchased a USB-C Charge cable because of an issue with a USB-C charge cable eligible for this program then contact Apple regarding a refund.
I have questions regarding this…
If you have any questions regarding this program you can leave a comment below or you can send us a private inquiry by going to our Contact page.