Save $50 Instantly on iPad Air 2 Through June 25th.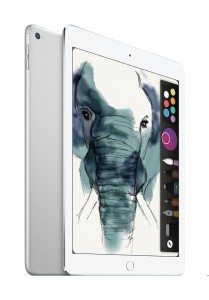 The most inexpensive 9.7-inch iPad just got a lot cheaper, but only for a limited time.  Now through June 25th, you can purchase any iPad Air 2 model at Connecting Point and get $50 off instantly.  This means the 16GB iPad Air 2 Wi-Fi model is now only $349 at Connecting Point.  This is perfect timing for Father's Day and makes a perfect gift (for anyone).  The $99 AppleCare+ is available on all of the models as well.  AppleCare+ gives you two years of warranty coverage and also gives you two incidences during the two years of a replacement due to accidental damages for only $49.  AppleCare+ is a great piece of mind if you accidentally drop your iPad or crack the glass.  You can bring your damaged iPad into Connecting Point and get a replacement for only $49.
With a gorgeous 9.7-inch Retina display and a design that's only 6.1mm thin and weighs just 0.96 pounds, iPad Air 2 is as portable as it is capable. It has a powerful A8X chip with 64-bit desktop- class architecture, advanced iSight and FaceTime HD cameras, Wi-Fi and LTE connectivity, iCloud, the breakthrough Touch ID fingerprint sensor, and up to 10 hours of battery life. It also includes great apps for productivity and creativity, and powerful new features in iOS 9 like multitasking. And there are even more incredible apps available in the App Store.
The only other 9.7 inch sized iPad currently is the iPad Pro which starts at $599.
Although the end of this promotion ends during Apple's Worldwide Developer Conference (WWDC) we are not expecting Apple to do anything with the iPad Air 2 lineup at that time.  Connecting Point is also offering 6-month special financing through June 25th as well. This allows you to spread the payment of any Apple product or service from Connecting Point over six months.  Visit our store for details.
It's a great time to purchase an iPad Air 2!  Leave a comment below. What's your favorite iPad feature? Any questions? Tips to share with the rest of the world? Etc.