Apple has determined that, in very rare cases, the two prong Apple AC wall plug adapters designed for use in Continental Europe, Australia, New Zealand, Korea, Argentina and Brazil may break and create a risk of electrical shock if touched. These wall plug adapters shipped from 2003 to 2015 with Mac and certain iOS devices, and were also included in the Apple World Travel Adapter Kit.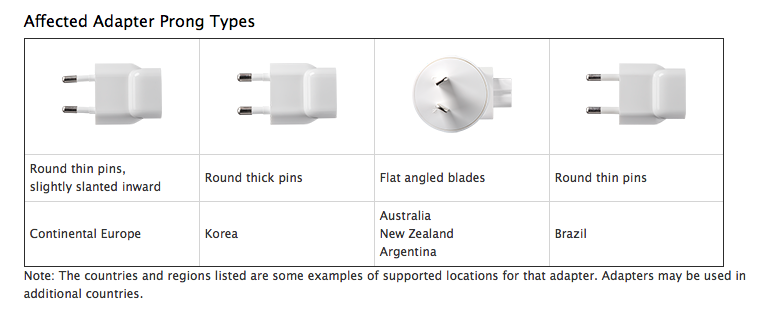 Don't worry about your US wall plug adapter
Please do not worry about any power adapter you purchased at Connecting Point or anywhere else which uses the United States plug adapter. Other wall plug adapters, including those designed for Canada, China, Hong Kong, Japan, and United Kingdom, and Apple USB power adapters are not affected by this program. Feel free to bring in any Apple wall plug adapter into Connecting Point and we will be more than happy to determine its eligibility for this exchange program.
How to see if your adapter should be exchanged
Compare your adapter to the images above. An affected wall plug adapter has 4 or 5 characters or no characters on the inside slot where it attaches to an Apple power adapter. Redesigned adapters have a 3-letter regional code in the slot (EUR, KOR, AUS, ARG or BRA).
Can Connecting Point replace my adapter(s)?
Yes!  Connecting Point is an Authorized Apple Service Provider and will provide like-for-like versions of the Apple AC wall plug adapters that are eligible for this program. This is a carry-in repair which means the eligible adapter(s) will need to be checked in and then we can order a replacement which generally arrives in 1-2 business days.  The way this repair program is set up is that we can order up to four eligible adapters per person.  If you have more than four adapters please understand that bringing in multiple serial numbers of the devices using these adapters will allow us to split up the repairs and would be very helpful in getting the replacement adapters shipped in a  timely manner.
You can find out more about this program here.