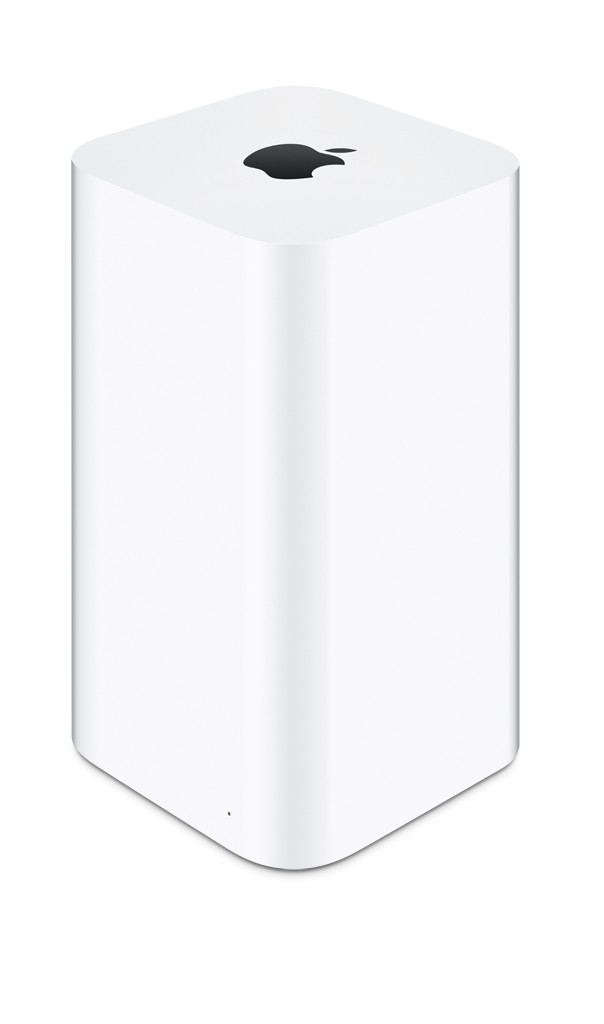 The all-new AirPort Time Capsule
Up to 3x faster Wi-Fi. Up to 3TB of storage. It's backup, redesigned from the ground up.
With the all-new AirPort Time Capsule, backing up your Mac couldn't be simpler. It works with Time Machine in OS X to automatically and wirelessly back up your data to its 2TB or 3TB hard drive,1 so you never have to worry about losing anything important. And AirPort Time Capsule doubles as a Wi-Fi base station with next-generation 802.11ac technology, for speeds up to 3x faster than the previous 802.11n standard.2 It's easy
to set up and highly secure, letting you share your broadband Internet connection, a USB printer, or a hard drive. And the new vertical design has a smaller footprint, so it saves desk space, as well as your files.
Key Features
• Automatic wireless backup with a massive 2TB or 3TB of storage space built right in¹
• Full-featured Wi-Fi base station with next-generation 802.11ac technology ²
• Up to 3x faster Wi-Fi2
• Up to 50 percent faster Time Machine backups³
• Powerful beamforming antenna array for higher performance and range
• All-new design with a smaller footprint
• Simultaneous dual-band Wi-Fi
• Easy setup with a Mac, iPad, iPhone, or iPod touch
• Connect a USB printer or hard drive and access it wirelessly
• Secure connections and compatibility with Mac computers, PCs, iPhone, iPad, iPod touch, Apple TV, and more.
2TB Time Capsule: Only $299
3TB Time Capsule: Only $399
Cables sold separately. Internet access requires a compatible ISP; fees may apply.
1 1TB = 1 trillion bytes; actual formatted capacity less.
2 AirPort Time Capsule is based on an IEEE 802.11ac draft specification. Performance based on comparison with Apple's 802.11n products.
3 Testing conducted by Apple in May 2013 using preproduction AirPort Time Capsule 802.11ac 2TB base stations, production AirPort Time Capsule 802.11n (4th generation) 2TB base stations, and preproduction 1.3GHz dual-core Intel Core i5-based 11-inch MacBook Air units with 4GB of RAM. Wireless network configured with WPA2. Performance may vary due to network configuration, distance, wireless interference, and other factors. Tests are conducted using specific devices and reflect the approximate wireless Time Machine backup performance of AirPort Time Capsule.
TM and © 2013 Apple Inc. All rights reserved.