Magic Keyboard, Magic Mouse 2,
and Magic Trackpad 2
The all-new Magic Keyboard, Magic Mouse 2, and Magic Trackpad 2 have been enhanced to deliver more comfort and functionality than ever before. Each includes a built-in rechargeable lithium-ion battery that charges fast, lasts about a month or more between charges, and eliminates the need for disposable batteries. With the included Lightning to USB cable, you can charge your device and automatically pair it with any Mac. Magic Keyboard and Magic Mouse 2 are included and pre-paired with every iMac, or you can customize your iMac with an optional Magic Trackpad 2. All three are also available for purchase separately. As a family, they work magic.

Magic Keyboard - $99
MLA22LL/A
Redesigned with a sleek, low profile design and optimized key travel for a more comfortable typing experience

Improved scissor mechanism with 33% more key stability than the current Wireless Keyboard for more precise typing

Full-size Function keys give you one- touch access to Mac features, including Mission Control and Launchpad

Takes up 13% less space on your desktop than the current Wireless Keyboard

Magic Mouse 2 - $79
MLA02LL/A
Continuous bottom shell and less moving parts result in a solid internal structure with quality you can feel
Lighter than the current Magic Mouse
Optimized feet design for smoother glide• State-of-the-art Multi-Touch surface that allows you to explore your favorite content in many ways
Charges quickly—just 2 minutes of charging will provide a typical nine-hour day of use

Magic Trackpad 2 - $129
MJ2R2LL/A
With Force Touch technology, four force sensors detect the amount of pressure you're using—a deeper press unlocks amazing new ways to interact with OS X and your desktop computer, so you get more out of every click
With 29% larger edge-to-edge glass surface area, now you can click anywhere and get a responsive uniform click
New design and new sleek, low profile makes the trackpad experience more comfortable than ever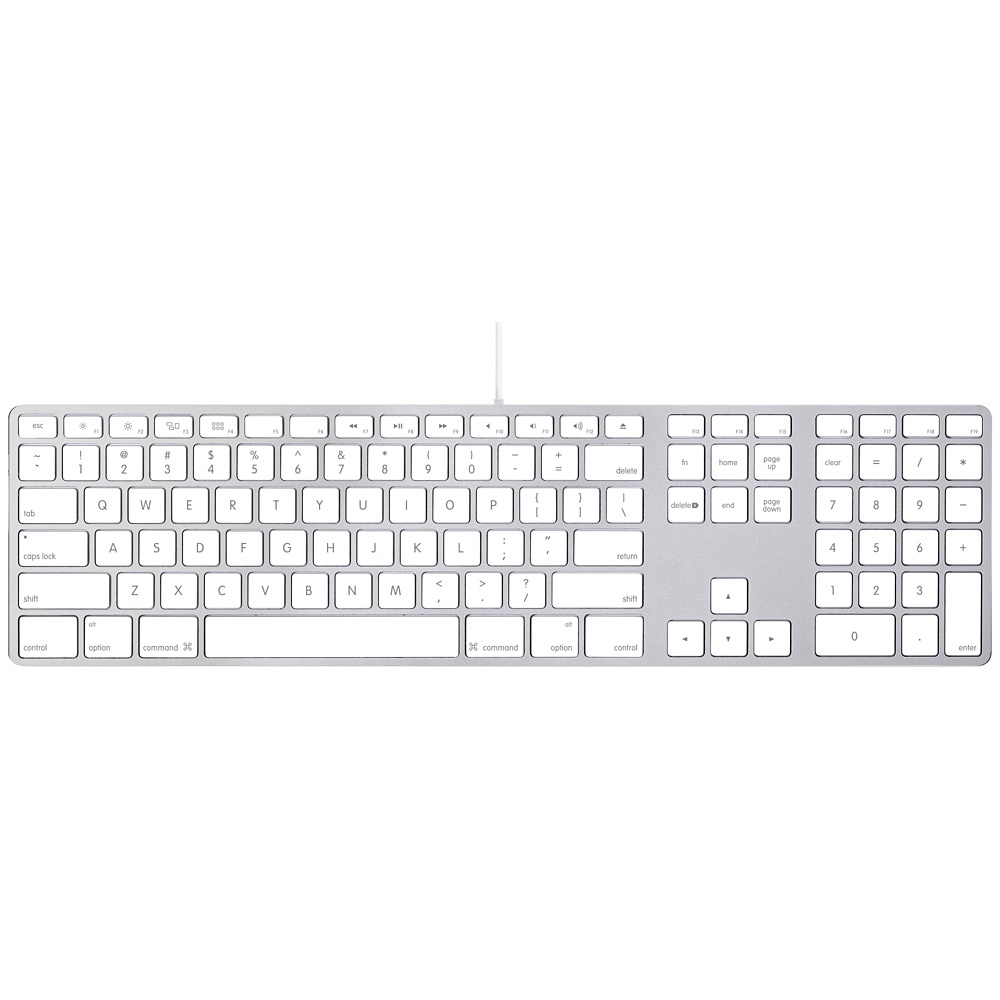 Apple Wired Keyboard with Numeric Keypad - $49
MB110LL/B
Function keys for one-touch access to a variety of Mac features such as screen brightness, volume, eject, play/pause, fast-forward and rewind, Mission Control, and Launchpad
Extended layout includes document navigation controls — page up, page down, home, and end — and full-size arrow keys for playing games and scrolling through documents
Numeric keypad is perfect for spreadsheets and finance applications
Two USB 2.0 ports enable you to connect your mouse as well as a high-speed peripheral such as a digital camera or printer